Foley Shield Back in 2017!
Wednesday, February 22, 2017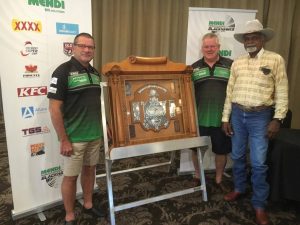 Mendi Blackhawks Chairman Gavin Lyons, Marshall Colwell and Vern Daisy were all on hand for the announcement of the return of the Foley Shield in 2017!
Wednesday, February 22, 2017
After sitting in hibernation for the past 5 years, the pinnacle of Rugby League in North Queensland, the Foley Shield, will once again be contested in 2017.
The battle for North Queensland Rugby League supremacy began back in 1948 and was known as one of the toughest competitions in regional Rugby League.
The official Townsville opening was held at the home of the Mendi Blackhawks, on Monday with the Division Manager of the QRL Northern Division Scott Nosworthy, who's own father played in the Foley Shield, making the announcement.
"Our board has made a decision, after talking to the three ISC Clubs in North Queensland, that we will reinvigorate the Foley Shield, which will be contested between the Townsville Mendi Blackhawks, Mackay Cutters and the Northern Pride in 2017," Nosworthy announced.
Each of the 3 senior teams play each other twice and the junior teams once, the most wins out of those home and away games will be calculated and a winner will be announced.
Previous Foley Shield players Vern Daisy, Marshall Colwell and Mendi Blackhawks Chairman Gavin Lyons were all on hand for the announcement and couldn't be more pleased.
"I remember the Foley Shield being a big gathering point for the whole of North Queensland, the crowds were huge back then," said North Queensland Rugby League Legend Vern Daisy.
"When I was playing in the Foley Shield, I was also cutting cane and trying to play football at the same time," Daisy said.
"To put on your jersey, it meant a lot, you felt indestructible."
Former Townsville forward Marshall Colwell agrees that the competition in North Queensland will rise to a new level.
"The Foley Shield is a great concept and the resurrection will give young rugby leagues players something to aspire," Colwell said.
"It didn't matter where you come from in North Queensland, to pull your jumper over your head was a matter of pride, you played for your mates and the blokes that play beside you."
Townsville Blackhawks Chairman Gavin Lyons believes the revival of the Foley Shield will also increase numbers of Rugby Leagues players in North Queensland.
"Representative football starts from as young as under 10's," Lyons said.
"They get used to playing against each other, that's how some of that history comes to the fore in a Foley Shield grand final."
The first game of the Foley Shield will be in Round 1 when the Mackay Cutters take on the Northern Pride at BB Print Stadium in Mackay.
The Mendi Blackhawks first home game will be on March 18 when they host the Mackay Cutters at Jack Manski Oval.
Left: Division Manager of the QRL Northern Division Scott Nosworthy, Vern Daisy, Marshall Colwell and Mendi Blackhawks Chairman Gavin Lyons make the official announcement. Right: The hotly contested Foley Shield