Wrap Up of Weekends Trials
Tuesday, February 14, 2017
Tuesday, February 14, 2017
The 6-10 scoreboard was not in favour of the Townsville Mendi Blackhawks for their first trial game of 2017 against the Northern Pride on Saturday night, but that does not mean coach Kristian Woolf was unhappy.
"The trial game served its purpose, we got what we needed to out of it," Woolf said.
"I wasn't too worried about minutes being played, it was just pleasing to give the boys some confidence, especially the ones coming back from injury."
"I liked what we did defensively for the most part, however we did give the opposition too much footy with handling errors."
"The number of times we had to defend our line, we did a really good job of that."
Woolf said he would like to expand on what they do on the field this Friday, in their second trial against a combined North Queensland Toyota Cowboys side, especially with attack, and give the players minutes closer to what they will play in the regular season.
A minor ankle injury to young Under 20's recruit Brenn Foster, was the only injury for the night.
The Under 18's also had a solid hit out, recording a 36-16 win.
The Under 20's were also solid in attack and defense but went down to the Pride 20-24.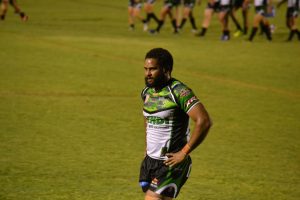 Temone Power in his first game back from injury