Junior league Jensen's home away from home
Tuesday, January 24, 2017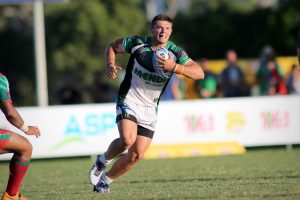 STORY ORIGINALLY PUBLISHED ON NRL WEBSITE
TONY WEBECK, CHIEF QUEENSLAND CORRESPONDENT, NRL.com – JANUARY 22, 2017, 6.00am
Growing up in Bowen, Corey Jensen got very few opportunities to play on his home ground.
It wasn't as though the locals didn't support their local club or had trouble fielding teams, it was just that teams from Townsville were regularly reluctant to make the 200 kilometre journey to play them.
Heading north for a game of junior rugby league was never an issue for Jensen and his fellow Seagulls however, the vast majority of their games preceded by more than two hours in the car.
"Most of the time, and it was unfortunate, but every time we'd get a home game teams from Townsville would forfeit so we never really got to play too many games in Bowen," Jensen told NRL.com.
"The boys didn't mind though. We'd car-pool and it was sort of a getaway for all of us really. We bonded really well and it was an awesome experience.
"Basically every Saturday Mum would get us up and into the car. I'm from a big family, I'm the eldest of seven kids and we all played footy.
"Mum and Dad would take us up to Townsville every Saturday which was a 2.5 hour trip to play a game and turn around and come back."
Now a member of the North Queensland Cowboys NRL squad, Jensen's journey in rugby league didn't begin until the age of 13 when he followed his mates and made the switch from soccer to junior league.
As they got older they would play games in towns such as Ingham, Charters Towers and Ayr as well as Townsville but the 23-year-old said his fondest memory is winning a grand final in just his second season.
"Junior footy is where I have some of my fondest memories," said Jensen, who completed his schooling in Townsville and played 54 games for the Cowboys in the NYC competition.
"Grassroots junior footy was awesome back in Bowen and my experiences then put me in good stead for what I'm doing now.
"I won a comp in the under-14s with the Bowen Seagulls and some of my best mates were at that club and I'm still really close to them now.
"We played Brothers in the grand final which was a rivalry team when we were playing.
"We used to hate Brothers because they'd win nearly every age group but we had good tussles with them all year and to knock them off at the end was pretty special."
And how did a team of 14-year-olds celebrate their premiership success?
"We got back in the car and drove back to Bowen. That was about it!"