Martin trades black and green for blue and white
Wednesday, September 14, 2016
If you search for Rhyse Martin on the internet you may come across a 2013 Future NRL Stars trading card from his time at the Sydney Roosters. If you are smart you will be snapping that trading card up right now because Martin is destined to be something special.
The Proserpine junior has just signed a two-year deal with the Canterbury Bulldogs and will make his way to Sydney for pre-season in November. Martin was excited and thankful for the opportunity to get back into the NRL.
"The opportunity means a lot to me. I have been working hard for the past two years and I've had to mature both on and off the field."
"Woolfy and his coaching staff have helped me a great deal to improve my game and hold myself to a higher standard." He said.
Martin has been outstanding for the Townsville & Districts Mendi Blackhawks for the past two seasons, continually appearing in the top three lists for tackles made and metres gained. The ex-Kirwan High student has flourished in his return to North Queensland and has made the Mendi Blackhawks number 12 jersey his own.
The second rower formed a potent left side combination with half back Michael-Parker-Walshe and centre Moses Pangai that allowed for countless point scoring opportunities.
"Playing for the Blackhawks has taught me a lot of things on and off the field." Martin said.
"The group of players I've been able to play alongside has been a mix of first graders with NRL experience and guys like me who are trying to take the next step."
"The feedback I got from my roomie, (Glenn Hall), was always a big help for me. But it didn't stop there I could name every guy in the team and say that they have helped me improve in some way."
The twenty-three-year-old answered the call of Coach Kristian Woolf to sign with the fledgling Townsville club after spending three years with the Sydney Roosters as the Under 20's Captain and later a fringe first grader.
"Rhyse has been a very big part of the Blackhawks and helping to develop a culture of success at our club," Coach Woolf said.
"He has brought and off field professionalism and an on field attitude to perform and is thoroughly deserving of his opportunity in the NRL."
"Like all our players progressing to NRL opportunities, we are very proud of Rhyse and I have no doubt he leaves us equipped with the tools to make him a success at the Bulldogs."
"He has certainly been a player we could heavily rely on over the last two years, and while he will be missed, we certainly wish him all the best."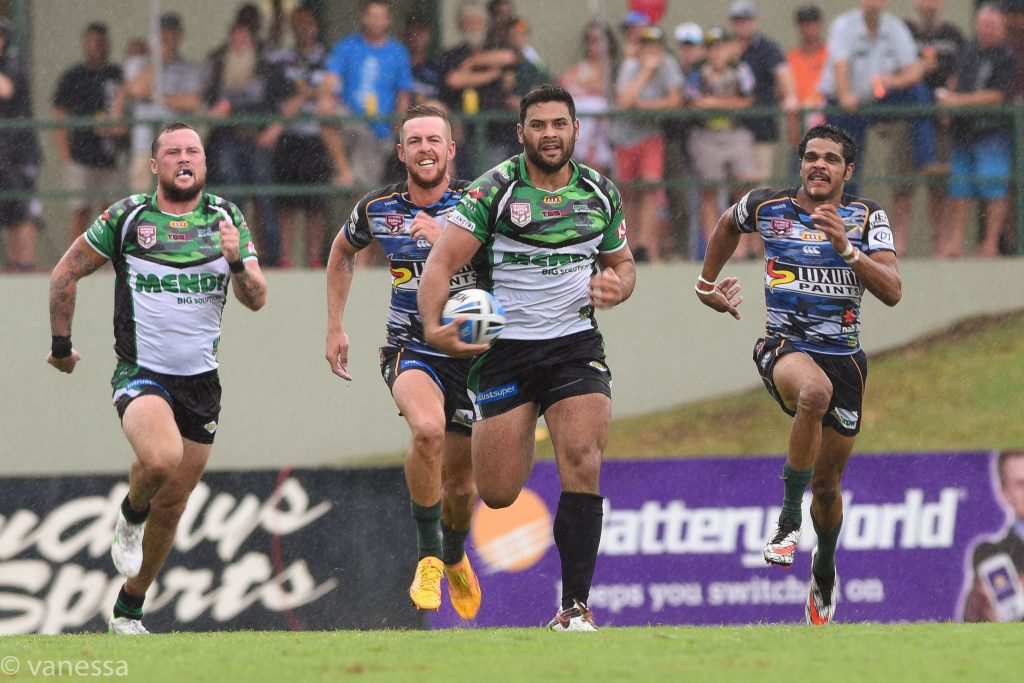 Martin had high praise for Woolf's guidance. "Woolfy has taught me to be more honest with myself."
"Especially away from the field, with my diet and game preparation."
"His plan was always to help me get back into the NRL and he has certainly been a big part of my achieving that goal."
The Mendi Blackhawks have three players graduating into the NRL in 2017 alongside Martin. Jahrome Hughes has signed a contract with the Melbourne Storm, Moses Pangai will join the Broncos and Corey Jensen has signed with the Cowboys. Martin says that the system in place in Townsville is designed to prepare players for that next level.
"The Blackhawks system is very simple it's about being tough, honest and resilient, the players and the staff all buy into that."
"It is an environment that helps the boys improve whilst still being confident in the current strengths of their game. The team is built around that constant striving for improvement."
"We are a very professional team and it's bound to produce results." He said.
During his time with the Mendi Blackhawks Martin's form has seen him play representative football for the PNG Kumuls and also be awarded Intrust Super Cup Second Rower of the Year Honours for Season 2016.
The team jokester, Martin's pranks and sense of humour will certainly be missed at the Mendi Blackhawks but these light hearted aspects of his personality will serve him well in the high pressure world of the NRL.  Martin too will miss the club he has called home for the past two years.
"I have loved my time at the Blackhawks. I can't thank the club enough for looking after me."
"I felt very at home and very comfortable here, that has certainly contributed to my ability to play good footy."
Known for his consistency, the young back rower will be hoping to take his powerful wide-running game to the next level and finally crack the first grade side at the Bulldogs in season 2017. However, this time around he knows things will be different when he steps back onto the field for that first pre-season training session.
"I know what's ahead of me and I know what I have to do to get to first grade."
"It's up to me now and I'm very confident I can do it."