Flying Falcons to land in Townsville
Wednesday, September 7, 2016
Sunshine Coast Falcons Coach Craig Ingebrigtsen has told the southern media recently that he believes in fairy tales, and as the Falcons began their first finals campaign in six years with a win over the heavily favoured PNG Hunters in PNG you can almost see the story writing itself.
After trailing 6-4 at half time of the elimination final at National Football Stadium in Port Moresby, the Falcons hit back with a brilliant 18-12 win to become the first team to defeat the Hunters at home in Season 2016.
The Townsville and Districts Mendi Blackhawks on the other hand are one side who can attest to the fact that motivation can be strongest after a fairy tale ending is not achieved. After a dream first season in the Intrust Super Cup the Mendi Blackhawks fell at the final hurdle missing out on a Grand Final win in their inaugural year.
Season 2016 has been vastly different for the Townsville side as they have battled injury and stretched their playing stocks to the absolute limits in order to get a team on the paddock each week. Many and varied combinations at the beginning of the season have taught the Mendi Blackhawks valuable lessons in terms of adaptability and the team are now starting to reap the benefits of having a similar team running out each week.
This weekend will be their biggest test so far this season as they head into Week 2 of the finals against a Sunshine Coast side which boasts eight Melbourne Storm players in Tony Tumusa, Ryan Morgan, Curtis Scott, Mark Nicholls, Joe Stimson, Nelson Asofa-Solomona, Felise Kaufusi and Charlie Galo.
The two sides have met twice in season 2016 and the current ledger reads 2-0 to the Mendi Blackhawks. But if the Townsville side have learnt anything from their first two seasons in the Intrust Super Cup Competition, it's that past results mean nothing when it comes to finals time.
The stakes are high as there will be no second chances for the loser in this elimination final and Coach Kristian Woolf has named a similar side to the team who defeated the Easts Tigers in Final 1.
Woolf will again be expecting big games from his forwards and strong leadership from his spine. However, the one non-negotiable the coach will be expecting from his troops when they head out onto Jack Manski Oval on Saturday afternoon is a strong desire and commitment to play for each other.
"Last weekend was obviously a great result for our club and we showed some of our potential," Woolf said.
"We are also fully aware that we will need to improve again this week and we are really looking forward to the challenge of facing a side stacked with Melbourne Storm talent."
"Our forwards in particular will have a great challenge against some experienced NRL Players and again I know it is one they will relish."
"At our best I believe we can beat any team, and that is exactly where we will aim to be this weekend."
The action will kick off on Saturday at 2:30pm at Jack Manski Oval with Under 9's playing until 3:45pm. Gates will open at 2:15pm and ticket prices will be the same as standard Intrust Super Cup Matches. The Townsville & Districts Mendi Blackhawks will take on the Sunshine Coast Falcons in the Intrust Super CUp Elimination Final at 4pm.
General Admission (ADULT) – $10.00
General Admission (CHILD UNDER 15) – FREE
Concession Card Holder (Pensioner, Defence Force, Students) – $5.00
You can purchase your tickets NOW from Brothers Leagues Club Townsville Reception desk or ONLINE
For all of our out of town fans you will be able to see all the action on the QRL Website as they Livestream the match here – Live Streamed via QRL TV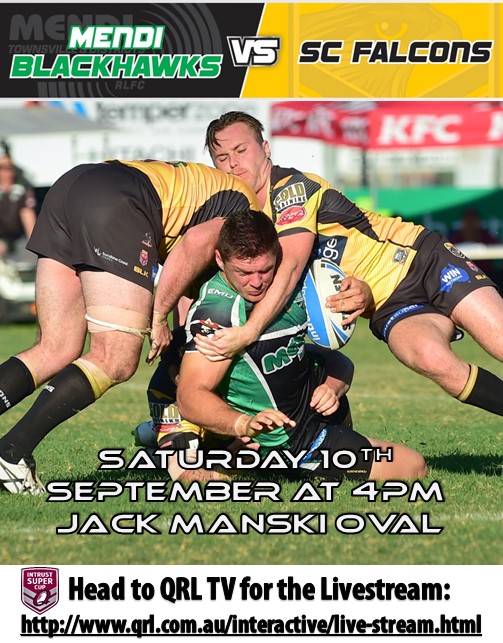 Finals – Week 2 Team Lists
1. Jahrome Hughes 2. Jonathon Reuben 3. Moses Pangai 4. Delouise Hoeter 5. Hezron Murgha 6. Kyle Laybutt 7. Michael Parker-Walshe 8. Brenden Santi 9. Anthony Mitchell (c) 10. Corey Jensen 11. Andrew Niemoeller 12. Rhyse Martin 13. Willie Minoga 14. Matt Bowen 15. David Munro 16. Davin Crampton 17. Kieran Quabba
Coach: Kristian Woolf
1. Eddie Tautali 2. Tony Tumusa 3. Ryan Morgan 4. Curtis Scott 5. Samuel Wright 6. Alex Bishop 7. Daniel Murphy 18. Tui Kamikamica 9. Thomas Murphy 10. Mark Nicholls 11. Troy Giess (c) 12. Joe Stimson 13. Jon Grieve 14. Nelson Asofa-Solomona 15. Felise Kaufusi 16. Jye Ballinger 17. Charlie Galo 19. Callum Klein
Coach: Craig Ingebrigtsen