Friday night football in Mackay
Wednesday, July 27, 2016
The Townsville and Districts Mendi Blackhawks will this Thursday evening travel to Mackay in preparation for their Round 21 Intrust Super Cup match against the Mackay Cutters on Friday at 7pm at BP Print Stadium.
It will be the club's first evening game so far in Season 2016 and their second hit out against the Mackay Cutters. The result of the first match played at Jack Manski Oval went the way of the Mendi Blackhawks 34-16 back in Round 11.
The Cutters have since added former NRL halfback Grant Rovelli to their roster. Having played 94 games of NRL for the New Zealand Warriors and the NQ Cowboys Rovelli will certainly present a formidable challenge for the Mendi Blackhawks.
The home side have also named young NQ Cowboys talents Josh Chudleigh, Tautau Moga and Braden Uele in their team to take on the Mendi Blackhawks.
The Mendi Blackhawks will this week be without Ray Thompson who returns to NQ Cowboys duty but will line up with Jahrome Hughes and Matt Bowen in the team, providing them with some consistency and experience in their spine alongside Michael Parker-Walshe and Anthony Mitchell.
Coming off a big win over the CQ Capras in "Get in the Game" Country Week will see the Mendi Blackhawks in good spirits leading into the match. However, they will have to keep their wits about them if they want to return to Townsville with a win as the Cutters will also be confident coming off a win over Wynnum Manly.
"The Challenge for us this week is to back up some of the excellent attacking footy we played last week against a stronger and hungrier opposition." Coach Krisitan Woolf said.
"The Cutters will be confident after some strong wins in the last few weeks and have the talent and size to be a real threat."
"We need to consolidate and continue to build our confidence in ourselves coming off such a win."
Unfortunately, the game will not be livestreamed but we will be updating scores on Facebook and Twitter and as always you can follow QRL Live http://live.qrl.com.au/ for live scoring during the match.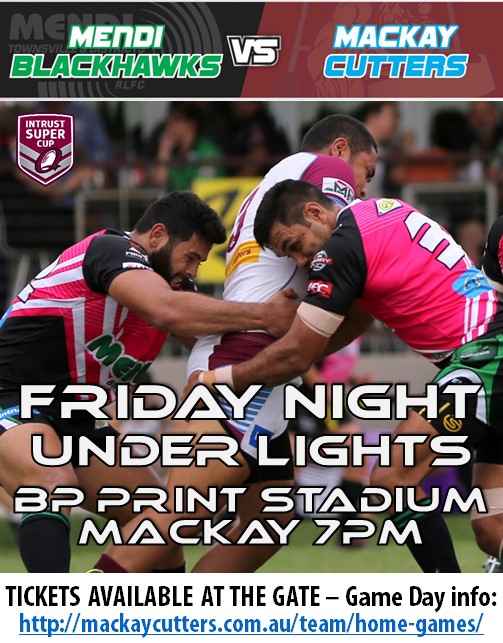 Mackay Cutters v Townsville Blackhawks
Stadium Mackay on Friday, July 29 – 7pm
Mackay Cutters
1.Liam Taylor 2. Jordan Pereira 3. Jack Creith 18. Tautau Moga 5. Johnny Faletagoa'i 6. Yosepha Kepa 7. Grant Rovelli 8. Ryan Kinlyside 9. Josh Chudleigh 10. Braden Uele 11. Joss Boyton 12. Andrew Davey 13. Brenden Treston (c) 14. Jacob Pottinger 15. Alexander Farrell 16. Leonati Feiloakitau-Fetuani 17. Isaac Richardson 19. Dalton Phillips
Coach: Jim Wilson
Townsville Blackhawks
6.Jahrome Hughes 2. Samsen O'Neill 3. Moses Pangai 4. Delouise Hoeter 5. Conor Carey 1. Matt Bowen 7. Michael Parker-Walshe 8. Brenden Santi 9. Anthony Mitchell (c) 10. Corey Jensen 11. Davin Crampton 12. Rhyse Martin 13. Lorenzo Maafu 14. Nathan Norford 15. Andrew Niemoeller 16. Willie Minoga 17. David Munro
Coach: Kristian Woolf