Try scoring fest in the west
Monday, July 25, 2016
Images Courtesy of North West Star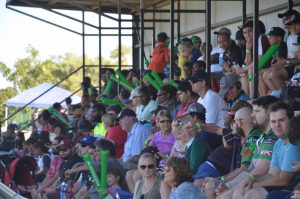 If the local fans turned up to Alec Inch Oval looking for an entertaining match during Round 20 of Intrust Super Cup "Get in the Game" Country Week they were certainly in luck. In a match where the total points amassed by both teams was 86, a try was scored approximately every 4.5 minutes during the game.
The Townsville and Districts Mendi Blackhawks were the orchestrators of most of those points in a huge 74-12 win over the CQ Capras on Saturday afternoon in Mount Isa.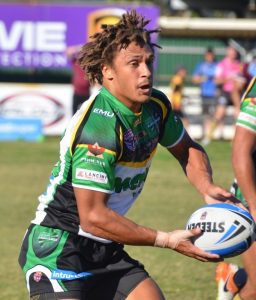 The Mendi Blackhawks welcomed back Jahrome Hughes from injury and Ray Thompson from NRL duties to put together one of the strongest teams they have had available in a long time. It proved to be a winning formula as Thompson put in a massive performance to help the Mendi Blackhawks get back into the winner's column.
Coming off an unlucky loss in Round 19 the Capras started with confidence, scoring the first try of the match before the Mendi Blackhawks put them to the sword scoring seven tries before the break.
The Capras were more competitive in the second half but the game was already well beyond their grasp.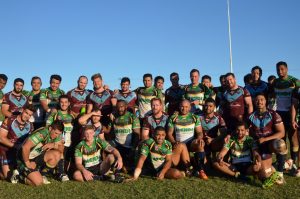 In the second biggest win in the Mendi Blackhawks short history there was a hat-trick to Rhyse Martin and doubles to Moses Pangai and Conor Carey.
Normanton's own Davin Crampton scoring his maiden try just before half time had the parochial crowd on their feet. The huge cheer rivaled the one fan favourite Matty Bowen received when he crossed for a try ten minutes earlier.
Tries were also awarded to Delouise Hoeter, Willie Minoga, Michael Parker-Walshe and Thompson in the 13 tries to 3 win.
The win was a confidence booster said Coach Kristian Woolf.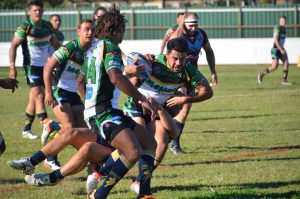 "It was obviously a great performance from our point of view. Our attack was outstanding on the back of a halves combination that looked to really enjoy playing together again.
"Everyone really enjoyed the whole country experience of getting to Mount Isa and the unique atmosphere that playing in country provides.
"The important thing for us is to back up that performance with some consistency in the coming weeks."