Huge weekend of rugby league ahead
Wednesday, June 22, 2016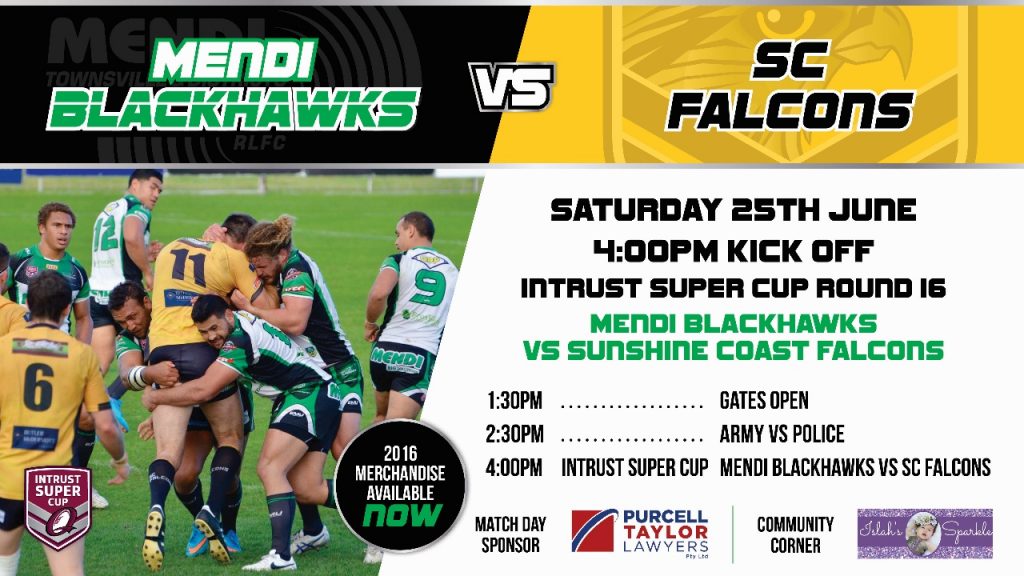 The Townsville & Districts Mendi Blackhawks aren't the only ones busily preparing for a big weekend on the football field. This weekend at Jack Manski Oval there will be over 1000 people taking to the field from Friday to Monday. Players from the age of 10 right through to Seniors, including professionals in the Intrust Super Cup, juniors in the Laurie Spina Carnival, local League players in the Townsville & Districts Rugby League (TDRL) and even some of our local police and army personnel.
The action kicks off on Friday evening when Brothers take on Centrals in three grades of the local TDRL competition. Saturday will see the Mendi Blackhawks facing the Sunshine Coast Falcons in the main game at 4pm whilst the preliminary match will see the Army take on the Police in a local charity match in support of Islah's Sparkle.
Sunday and Monday will see the over 960 children from over 64 teams playing in the Laurie Spina Shield Carnival organized by the North Queensland Cowboys.  One of the largest junior rugby league carnivals in Australia, this year the teams range from Barcaldine to the Northern Territory and everywhere in between.
Keep your eyes peeled for some of our Mendi Blackhawks players during the Laurie Spina Carnvial as they will be helping out some of teams as Sports Trainers for the carnival. However their immediate focus in on the Falcons who are sitting in 6th place just two spots under the Mendi Blackhawks on 7 wins, 6 losses and 1 draw.
The Falcons will be travelling to Townsville full of confidence after a win over the Easts Tigers in round 15 and have named six Melbourne Storm players in their 17 man line up.
The home side, in direct contrast, are coming off two consecutive losses and will be looking to regroup and find some consistency this weekend. Coach Kristian Woolf said the team know what's required and are committed to the task.
"We are certainly looking to be better than we have been in our previous two matches."
"We are aiming to get back in the winner's circle and we know what we need to improve on to make that happen."
The Qld Police Service will take on the Australian Army's 3rd Brigade in a Charity Match prior to the Mendi Blackhawks game to assist in raising funds for the Islah's Sparkle Appeal. Following the Mendi Blackhawks vs Sunshine Coast Falcons match a charity auction of sports memorabilia will be held with some outstanding items up for grabs. You can view the full auction item list here: Qld Police vs Army – Charity Auction Items
Entry for the game on Saturday is half price at $5.00 for Police and Army Personnel upon presentation of valid identification. Gates open at 1:30pm with the curtain raiser charity match kicking off at 2:30pm and the main game starting at 4pm.
It's a weekend of rugby league not to be missed.