'Get in the Game' Country Week in Charters Towers
Tuesday, August 11, 2015
With support from the Queensland Government, the QRL and its clubs are excited to bring Round 23 of the Intrust Super Cup to regional communities. On the weekend of August 15/16, 'Get in the Game' Country Week matches will be played in Charters Towers, Dalby, Blackall, Bundaberg, Innisfail and Stanthorpe. Click here to find out more about the Get in the Game initiative:
To further capture the spirit of this special weekend, the QRL is placing its support behind the Royal Flying Doctor Service. Personnel from the RFDS will be present at each ground and a percentage of gate takings will be donated to this wonderful service. The RFDS has a fleet of 63 aircraft operating from 21 bases located across the nation and provides medical assistance to over 290,000 people every year. Learn more about the RFDS:
The Townsville & Districts Mendi Blackhawks will be visiting Charters Towers to play the 4th placed Ipswich Jets as a part of 'Get in the Game' Country Week 2015. The game will take place at Bill Lewis Oval at 5pm on Saturday 15th August 2015. Game day will be hosted by the Charters Towers Miners RLFC. With a full day of local rugby league action taking place prior to the Intrust Super Cup match there will be plenty to keep you entertained until the Main Game kicks off. The schedule for the day is listed below. Tickets for the match are the same price as tickets for all of our home games with Adults tickets available for $10.00, Concession tickets & Children 15+ charged at $5.00 and Children under 15 FREE! Ten percent of ticket takings for the day will be donated to The Royal Flying Doctor's Service.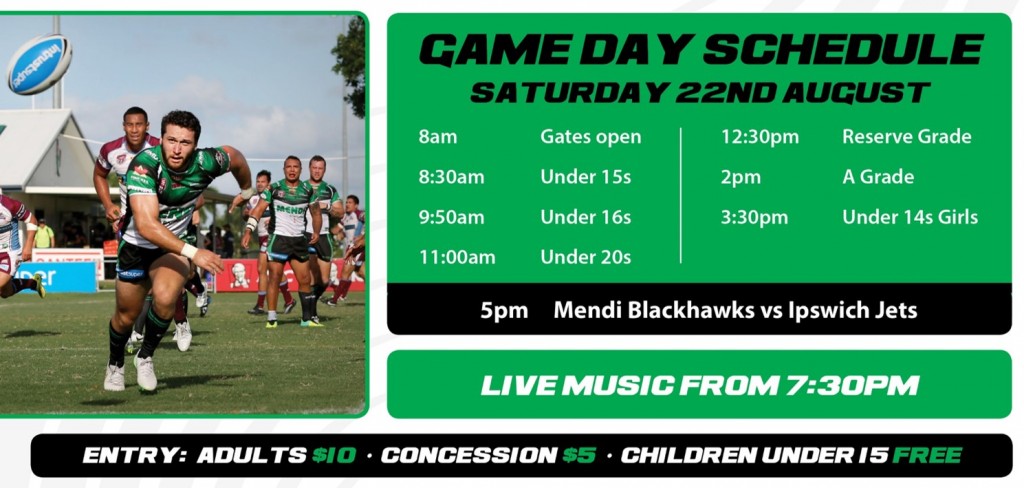 In the lead up to the Round 23  Country Week match in the Charters Towers Miners RLFC are running a silent auction for a FRAMED SIGNED Townsville & Districts Mendi Blackhawks JERSEY! If you would like to bid on the jersey please text your bid and contact details to 0417 503 539 or email your bid and contact details to burton.family1@bigpond.com. The winning bidder will be announced at half time of the Blackhawks vs Ipswich Jets match on Saturday 15th August at Bill Lewis Oval. Bid must be PAID IN FULL prior to the end of the evening in order to take the jersey home.
We will be running a Supporter Bus to the game. The return trip plus gate entry will only cost $20.00! The bus will depart from Brothers Leagues Club Townsville at 12pm on Saturday 15th August 2015 and will depart Charters Towers to return to Townsville at approximately 8-8:30pm. If you are interested in the Supporter Bus offer please contact the Leagues Club on 4773 8000 to book your place. Please note that payment will be required at the time of booking and we won't be able to take walk in supporters on the day of departure.
Alternatively if you plan to spend the weekend in Charters Towers and are searching for accommodation please visit the following links: