Real Men wear PINK!
Tuesday, June 16, 2015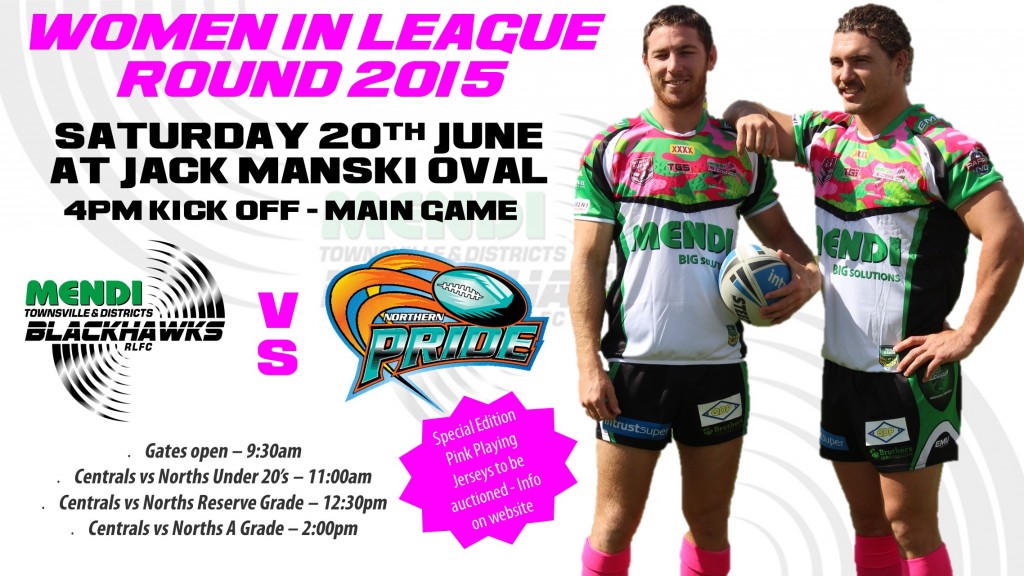 This weekend's home game on Saturday 20th June against last year's Premiers the Northern Pride is dedicated to celebrating Women in League Round. The Townsville & Districts Mendi Blackhawks will take to the field in special Pink Camouflage jerseys and neon pink socks. These special edition jerseys will be auctioned following the game with proceeds going to support Junior Rugby League in the Mendi Blackhawks footprint.
The purpose of this special round is to acknowledge and celebrate the diverse role played by women across the game, from volunteers, to coaches, referees and professional administrators; to the mum's that ensure their child gets to footy training every week. There are many varied and equally special ladies who contribute to rugby league every day and this round reminds our players and supporters to take the time to say thanks to the women in their lives who support the great game of rugby league and its players.
The Pink Jersey auction will be conducted for one week with bids closing at 5pm next Thursday 25th June 2015. Bid forms will be available at the gates of Jack Manski Oval during the game against the Pride this Saturday, and also from Reception at Brothers Leagues Club Townsville.
For those who wish to get in early you can collect a Bid form from Reception at the Leagues Club from 10am on Thursday 18th June 2015. For out of town fans, you can join the action by visiting our website to place your bid – https://blackhawkstsv.com.au/community/2015-pink-jersey-auction/ 
Bidders will be bidding on Jersey numbers with the players who wear each number during the game to sign that jersey. The team will be named by Wednesday but may be subject to change up until kick-off.
Completed Bid forms are to be returned in person to Reception at the Leagues Club in order to be valid. The Mendi Blackhawks will post an update on Monday 22nd June on the website to inform the public of the current highest bid for each jersey. The reserve for each jersey will be $75.00.
Round 15 – VS NORTHERN PRIDE
WOMEN IN LEAGUE ROUND
Saturday 20th June 2015 – Jack Manski Oval
Main Game kick off – 4:00pm
Gates open – 9:30am
Centrals vs Norths Under 20's – 11:00am
Centrals vs Norths Reserve Grade – 12:30pm
Centrals vs Norths A Grade – 2:00pm
2015 PINK JERSEY AUCTION DETAILS AT A GLANCE

AUCTION OPENS:
Thursday 18th June 2015
AUCTION CLOSES:
Thursday 25th June 2015
RESERVE:
$75.00
UPDATE ON HIGHEST BIDS PUBLISHED:
Monday 22nd June 2015 on Mendi Blackhawks website
BID FORMS AVAILABLE:
At gates of Jack Manski Oval during Round 15 home game against Northern Pride Saturday 20th June 2015 or at Brothers Leagues Club Townsville Reception
BIDS FORMS TO BE RETURNED TO:
Brothers Leagues Club Townsville Reception
OUT OF TOWN BIDS:
https://blackhawkstsv.com.au/community/2015-pink-jersey-auction/