Blackhawks off to a flying start
Monday, March 9, 2015
It was a warm day in North Queensland that saw the long awaited arrival of Round 1 of the Intrust Super Cup on Saturday 7th March 2015 at Jack Manski Oval in Townsville. After an intense warm up the Townsville & District Mendi Blackhawks took to the field energised by the excitement of their historic inaugural game of the Intrust Super Cup. Lining up against neighbours, and new rivals, the Mackay Cutters was especially meaningful for players Daniel Beasley, Anthony Mitchell and Zac Santo who have previously worn the Cutters colours and also Rhyse Martin who was set to battle his older brother Tyson.
The Mendi Blackhawks launched into the match in imposing fashion with a dominant first 20 minutes, withstanding repeated pressure on their own line before turning that intensity into points as
talented fullback Jahrome Hughes burst over the line to score first points of the game 9 minutes in. Hughes' try was followed by a strong effort by Rhyse Martin who shrugged off defenders to score the second try of the match and take the lead to 12 nil at the 20th minute.
The points were flowing for the Mendi Blackhawks with tries in quick succession to NQ Cowboys allocated players Zac Santo and Kyle Feldt. The Cutters then hit back through Tyson Martin with a few minutes to go before half time and the Mendi Blackhawks went into the bre ak leading 20 point to 6.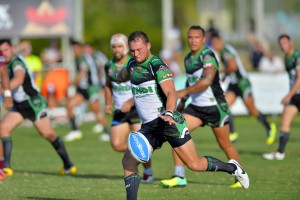 The heat and fatigue set in during the second half which saw errors from both teams lead to many missed opportunities. Despite some ill-discipline the Mendi Blackhawks were extremely effective in defence given that the Cutters had the lion's share of possession especially in the second half. A spectacular try-saving effort from a sublime Hughes led to a huge roar from the 1800 strong crowd gathered at Jack Manski Oval.
Halfback Michael Parker-Walshe was elusive throughout the game and was first to cross the line in the second half. His try was quickly followed by an opportunistic try at the opposite end to Cutter's NQ Cowboys allocation Josh Chudleigh taking the score to 24-12 with 25 minutes left to play.
Second-rower Rhyse Martin ended the game with bragging rights over his brother Tyson as he crashed over the line for a double extending the Mendi Blackhawks lead to 30-12. A late consolation try to Cutters Jordan Pereira took the Cutters final score to 16.  Mendi Blackhawks finished their inaugural game 14 point winners.
Captain Daniel Beasley was pleased with his team's first up effort but content to pull the reigns on any talk of favouritism "That's just Round one," he said.
"We still have 24 more rounds to play. We will need to make sure we play consistent footy, fix up those little errors we can't afford to make. If we can play well for the next six weeks or so, then we can consider ourselves in the race."
Coach Kristian Woolf was especially happy with the team's intensity in defence and willingness to be physical with their opposition "It's clear that we can score points but I think we need to pull back on that and ensure we don't push for attacking opportunities that aren't there. We are a better footy side than that but I was definitely satisfied with how we turned up defensively."