BLADE ready to begin his patrol
Saturday, March 7, 2015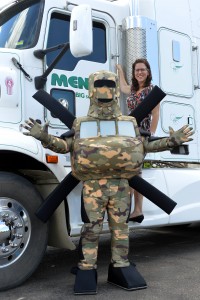 The Townsville and District Mendi Blackhawks mascot is nameless no longer.  "Blade" will now be patrolling the sidelines of the Jack Manski Oval, thanks in part to Lisa Dowd who was the first of six fans to submit the name.
An open invite to fans to name the transformer like Blackhawk helicopter gave a judging panel of four some difficult decisions, with a shortlist of five possible names.  In the end they unanimously selected Blade, probably thanks to the unique rotor design on the rear of the mascot.  "We had several people submit the name Blade.  Mrs Dowd was the first, on the day the competition opened.  It was a tough decision, but the name seems to fit.  Thanks to all of the entrants and hopefully the supporters like it.  I'm sure the children will,'' Brothers CEO Justin Wilkins said.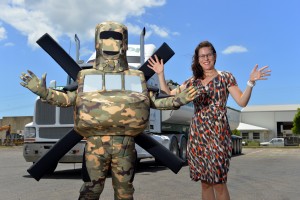 Mrs Dowd will now receive a Mendi Blackhawks merchandise pack valued at $200.00 and two season passes to all home games.  The other Blade entrants will also receive a $50 merchandise voucher.  The Townsville & Districts Mendi Blackhawks would like to thank the general public for their entries and also Mendi for developing and running the competition.
Kelly Thompson from the Mendi Group said "She looks forward to what Blade has in store at the first game and agrees that that kids and adults alike will love the new addition to the Mendi Blackhawks's."