TRIAL TEAM TO PLAY PRIDE
Wednesday, March 1, 2023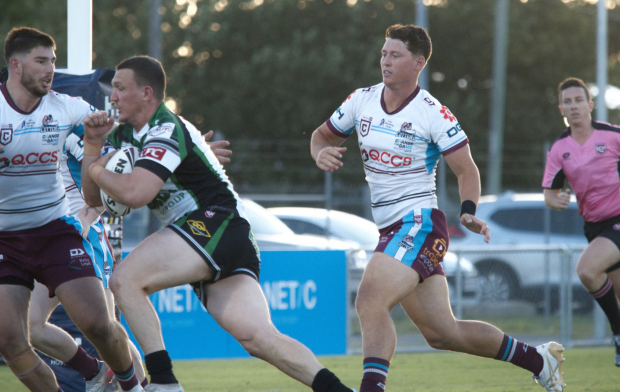 Marty Strecker Photography
Multiple contracted Cowboys will don the black and green when the Mendi Blackhawks battle the Pride as a curtain raiser to North Queensland's NRL opener against Canberra. Riley Price and Jordan Lipp got their Q Cup careers underway with Townsville in 2021, while Jake Bourke, Kulifeu Finefeuiaki, Mia Pua'avase, Zac Laybutt and Tomas Chester made their Hostplus Cup debuts under current coach Aaron Payne last year, with the latter excelling at fullback.
"I've enjoyed working with those boys before and I would think having had a pre-season with the Cowboys under their belts they'll be further developed. I'm looking forward to seeing them continue to improve."
Payne's also eager to see a handful of players that were a part of the Mendi Blackhawks Colts Premiership side step up to the next level, lining up against Northern. Halfback Tom Duffy is unlikely to be phased leading the team around the park while hooker Jai Hansen's handy around the ruck and Emarly Bitungane brings brute force.
"I obviously saw a fair bit of that trio in action last year and it's exciting to see their progression. I'm confident they'll go out and execute their roles."
Local Gehamat Shibasaki is one of four new names ready to represent the club for the first time, along with Laitia Moceidreke, Robert Derby, and PNG international Sylvester Namo.  Cade Maloney, Pat Kaufusi and Jayden Hodges will back up on Saturday, having played in the club's opening trial last weekend. The visitors impressed against the Cutters, particularly in the second half to run out 28-16 winners. Payne's preparing the Panadol for some selection headaches he envisions, ahead of round one.
"There's no doubt we have some strong competition for spots, but as a coach that's what you want. It was a pretty classy performance in Mackay, for a scratch match, and obviously the players coming in this weekend will have a point to prove, and not just to myself but to Cowboys coaching staff as well."
The match at Queensland Country Bank Stadium kicks off at 1.50.
 Team List
Tomas Chester
Laitia Moceidreke
Gehamat Shibasaki
Jordan Lipp
Robert Derby
Jake Bourke
Tom Duffy
Cade Maloney
Jayden Hodges
Mia Pua'avase
Kulikefu Finefeuiaki
Patrick Kaufusi
Riley Price
Interchange
Jai Hansen
Wil Sullivan
Emarly Bitungane
Sylvester Namo
Zac Laybutt
23. Jodeci Baker-Tiraha