RD 1 Mendi Blackhawks Match Report
Sunday, March 20, 2022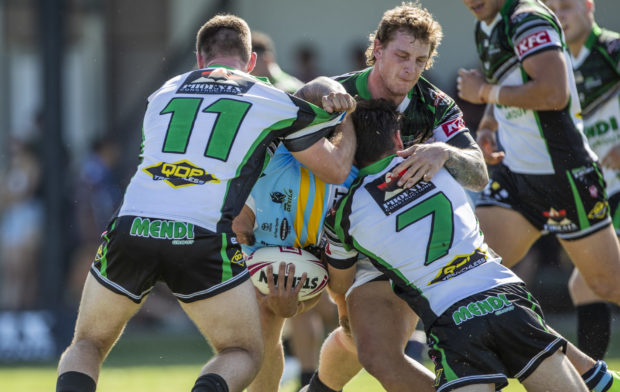 Mendi Blackhawks Round 1 at Jack Manski Oval.  Photo Alix Sweeney
AMELIA PATTEL & BLACKHAWKS MEDIA
Jack Manski Oval hosted the round one match of the Hostplus Cup between the Mendi Blackhawks and the North Devils.
New Mendi Blackhawks captain, Josh Chudleigh lead out the home side, which included four debutantes, Jake Bourke, Kayleb Milne, Tomas Chester and Emry Pere.
The Devils opened the scoring in the third minute through Brendan Piakura.
Josh Chudleigh responded for the home side, crashing over from dummy half to level the scores.
Rashaun Denny put the Devils back out in front, scoring out wide with Tyrone Roberts' conversion was successful.
Moses Noovoa-McGreal outsmarted the Mendi Blackhawks defence in the 33rd minute and scored a try, extending the lead.
Devils Matthew Milson extended his teams lead, just before the break, as he went over the white stripe in the 36th minute.
The Mendi Blackhawks were able to hold out points scored against them for the remainder of the first half, leaving the score at 24-6.
The Mendi Blackhawks started the second half with desperation to start a comeback but a discipline error from Michael Carroll, gave the Devils good field position. The visitors took advantage with Brayden McGrady to cross over in the 47th minute.
The Mendi Blackhawks luck didn't change as a try in the corner by Devils Rashaun Denny gave him his second of the day in the 58th minute and Roberts was unable to convert.
Mendi Blackhawks were able to score, in spectacular fashion, through Kalifa Faifai-Loa in the corner tip toeing down the side-line in the 63rd minute.
The home crowd roared as home grown debutant Tomas Chester scored a solo try on debut surging to the line in the 70th minute.
Moses Noovoa-McGreal scored his second try in the dying seconds of the game.
The final score was 38-14.
The Mendi Blackhawks will be looking to bounce back, hosting the Burleigh Bears for round 2 next Saturday at Jack Manski Oval.