Mendi Blackhawks Celebrate Indigenous Round
Tuesday, July 9, 2019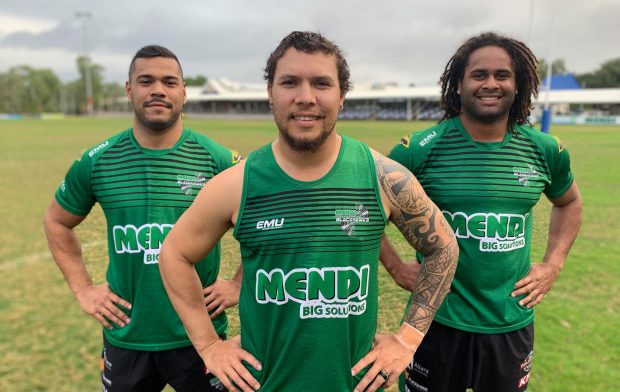 Celebrating Indigenous Round is Temone Power, Shaun Nona and Bacho Salam. Photo Blackhawks Media
BLACKHAWKS MEDIA & AMY PHILLIPS
Round 17 of the Intrust Super Cup will see Indigenous Round celebrated at Jack Manski Oval, when the Townsville & Districts Mendi Blackhawks take on Northern Pride this Saturday.
Indigenous Round is an opportunity to honour the traditional owners of the land we live on, and recognise and celebrate the significant contributions of Aboriginal and Torres Strait Islander members of our Rugby League community.
Coach Aaron Payne said the team were looking forward to the Indigenous Round game this weekend.
"We've got a long list of talented Indigenous players at our club and our region, and it's great we get to celebrate this," Payne said.
"To see how proud the boys are to represent their heritage is inspiring to all of us."
The Mendi Blackhawks will have a number of proud Indigenous players taking the field in this weekend's game, including Bacho Salam, Temone Power and Shaun Nona.
Bacho Salam from the Kukuyalinji Tribe, in Mossman North Queensland acknowledged that it means a lot to him to be able to play this weekend.
"I want to make the Indigenous community proud and to be a role model for the younger generation," Salam said.
"It means a lot to both my family and myself."
"I'll have my family here watching this weekend, so hopefully if I get a meat pie (try), I might give them a shake-a-leg."
Temone Power from the Jangga and Juru Tribes in North Queensland believes that Indigenous Round is important to him because it gives the opportunity to represent his community.
"It's good that the Intrust Super Cup gives us this opportunity to celebrate Indigenous Round," Power said.
"It's an honour to represent my people, our culture and the whole community."
"I want our younger generation to see that I started out just like them, and they too can have the same opportunities."
Shaun Nona believes Indigenous Round is incredibly important, especially in teaching his young son about his Torres Strait Islander culture.
"My father's family is from Badu Island, near Thursday Island in the Torres Strait," Nona said.
"It's very important to me that my son grows up knowing about his Indigenous culture,"
"And events like this will help him to understand."
"It means a lot to our family that the QRL supports and celebrates Indigenous people with this round."
Mendi Blackhawks U20's Coach Dave Elliott, whose mothers family is from the Ngawun community near Julia Creek, said his team will also be proudly celebrating Indigenous Round.
"This weekend gives the whole club the opportunity to recognise and support and the importance of Indigenous Round."
"It's a really special round for us to celebrate our culture and the contribution Indigenous people have given to Rugby League over many years."
The Mendi Blackhawks will kick off their Round 17 game at 4pm this Saturday at Jack Manski Oval. The Under 20's kick off prior to this at 2:20pm and prior to this game is an U17's Mendi Blackhawks V Northern Pride game at 1pm.
The ISC team will be wearing specially designed jerseys for the round designed by the Bindal and Wulgurukaba People.