Blackhawks Too Good For Pride in the Wet
Thursday, March 28, 2019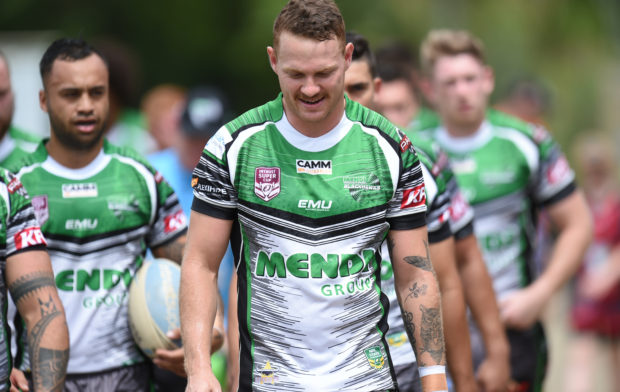 Photo: QRL Media
Jorja Brinums – QRL Lead Content Producer
Origianally published https://www.qrl.com.au/news/2019/03/23/blackhawks-too-good-for-pride-in-the-wet/
A clinical Townsville Blackhawks beat Northern Pride 20-4 in slippery conditions at Barlow Park in Cairns in round 3.
The Mendi Blackhawks, coached by Aaron Payne, held Pride scoreless in the first half, despite Pride's Gideon Gela-Mosby looking very dangerous just before the half-time siren sounded.
Mendi Blackhawks' Thomas Gilbert was first to score, 17 minutes in, and Levi Dodd converted; Michael Carroll scored Blackhawks' second try to bring the half time score to 10-0.
Pride's Connor Jones said "it was pretty tough conditions – nice and wet", adding his team needed to complete more sets to be successful.
Mendi Blackhawks, who beat Ipswich Jets in Round 1 and lost to Tweed Seagulls in Round 2, never really looked in trouble, with centre Levi Dodd proving very strong in defence and attack throughout the game.
Payne said "it was very trying conditions for both teams" with players battling constant rain.
"We just played to the conditions a little bit better," Payne said, adding his team had worked on their previously poor completion rates, and it paid off tonight.
"There were some really good performances across the board."
Payne said he was quite impressed with Thomas Gilbert and Corey Jensen, who "got through a mountain of work", and Kyle Laybutt.
Pride's Chey Bird said "full credit to Townsville – they certainly turned up ready to play".
"Unfortunately a few too many errors from our guys," Bird said.
Mendi Blackhawks will face Bears in Townsville in Round 4.
"We're looking forward to getting home and playing at home," Payne said.
He said his team needed "consistency with our high standards" to keep finishing on top week to week.
Pride, who beat Redcliffe Dolphins 22-18 in Round 1 and PNG Hunters 24-0 in Round 2, will play Ipswich Jets in Round 4.
The Blackhawks' Auswide Bank Mal Meninga Cup side dominated Pride 58-6, scoring 10 tries to the Pride's one; Dylan White scored the first try of the game and converted nine of 10 tries.
The Hastings Deering Colts game was much closer, with Pride beating Blackhawks 14-12; Steven Stafford crossed the white line twice for Pride.