Mendi Blackhawks Team Announced – Round 8 V Tweed Heads
Friday, April 21, 2017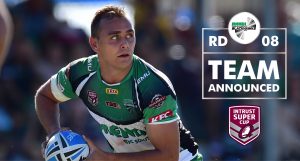 Friday April 21, 2017
The Townsville Mendi Blackhawks have named their team for the Round 8 Intrust Super Cup, ANZAC Round to take on Tweed Heads this Sunday.
Coach Kristian Woolf has named Sione Lousi on the bench who will make his return after breaking his arm in round 1.
"We are all looking forward to having Sione back on the field," Woolf said.
"He has a wonderful work ethic, combined with his size and skills, he will be a really good inclusion for us this week."
Woolf is also expecting a tough game against the Seagulls who are coming off a win against the Norths Devils.
"We need to be more consistent this week and have addressed this at training."
"Tweed are a good side, our forwards will need to be ready for a tough battle."
Round 8 is the ANZAC Round in the Intrust Super Cup and the Townsville Mendi Blackhawks will be paying their respects with a full ANZAC Ceremony prior to kick off.
"ANZAC Day means a lot to us," Woolf said.
"We are a Garrison town and have two former serving staff members on our team that the boys really look up to."
"The entire Mendi Blackhawks team will be paying their respects."
Gates open at 1.30pm and kick off is at 3pm.
Team: Townsville Mendi Blackhawks v Tweed Heads
Venue: Jack Manski Oval, Townsville
Date: 23rd April 2017, 3pm
1. Carlin ANDERSON

2. Samsen O'NEILL
3. Temone POWER
4. Ty CARUCCI
5. Jonathon REUBEN
6. Kyle LAYBUTT
7. Michael PARKER-WALSHE
8. Sam HOARE
9. Anthony MITCHELL
22. Oshae TUIASAU
11. Jordan KENWORTHY
12. Andrew NIEMOELLER
13. Dan BEASLEY (c)
Interchange
14. Kierran MOSELEY
15. Kieran QUABBA
16. Sione LOUSI
10. Lee JEWITT
18. Cade MALONEY
COACH: Kristian Woolf